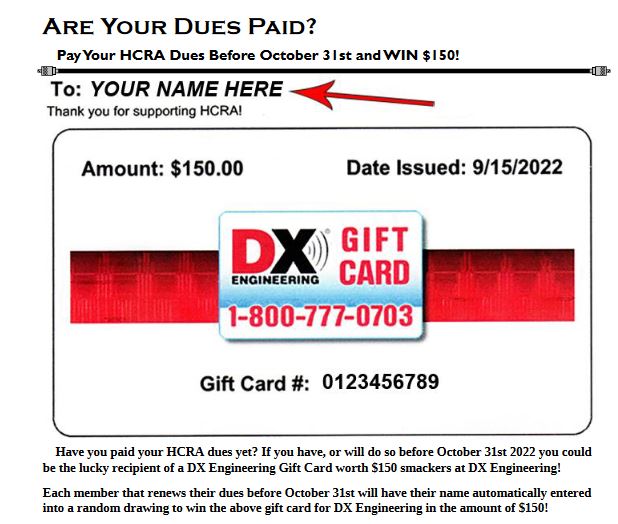 Are Your Dues Paid?
Pay Your HCRA Dues Before October 31st and you could WIN $150!
Have you paid your HCRA dues yet? If you have, or will do so before October 31st 2022 you could
be the lucky recipient of a DX Engineering Gift Card worth $150 smackers at DX Engineering!
Each member that renews their dues before October 31st will have their name automatically entered
into a random drawing to win the above gift card for DX Engineering in the amount of $150!
Each year, HCRA's fiscal year ends on August 31st with the new fiscal year beginning on September 1st
2022. Not sure if you paid your dues already? Go to: https://hcra.org/current-members/ and look for
your name on this list. If your name appears here then your dues have been renewed or they are valid until
the date on the far right of the screen. Standard memberships are only $15 per year and can be renewed as
noted below.
Renew your membership by credit card using PayPal even if you don't have a PayPal account! It's the
fastest method and secure. Renew here
Do you prefer to pay by Snail mail? Your dues can also be paid the old fashioned way by snail mail, simply download the application form using this link: Renew by Snail Mail and mail a check in.
No Matter How You Pay… Please Renew Soon!!!